DC Universe Classics is a 6-inch action figure line created by Mattel in production from 2008-2012.
Production
Edit
TBA
Releases
Edit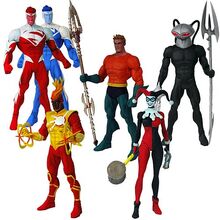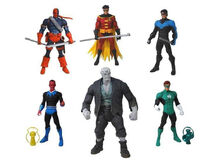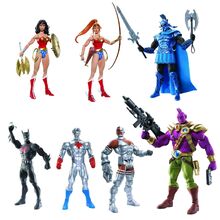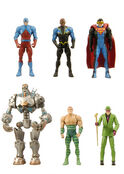 Wave 5 was released exclusively through Wal-Mart retailers in late fall, 2008.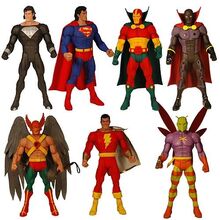 Mr. Miracle

Variant: Dr. Impossible

Hawkman
Killer Moth
Superman

Variant (black suit)

"Shazam!"
Ocean Warrior Aquaman
Kid Flash
Blue Beetle
Booster Gold

Variant (modern)

Big Barda

Variant (no helmet)

Captain Cold
The Flash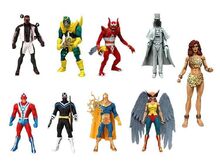 Commander Steel
Dr. Fate

Variant (gold)

Mr. Terrific
Vigilante
Parademon

Variant (Super Powers)

Gentleman Ghost
Hawkgirl
Wildcat
Deadshot
Guardian
Black Adam
Mantis

Variant (superpowers)

Black Canary
Green Arrow
Wave 10 was released exclusively through Wal-Mart retailers in early fall, 2009.
Robotman
Beast Boy
The Joker
Power Girl
Man-bat
Forager
Batman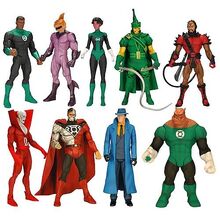 Katma Tui
Shark
Deadman

Variant (translucent)

Cyborg Superman
The Question
John Stewart
Steppenwolf

Variant (Super Powers)
Wave 12 was the first to alter the line's packaging since its introduction in Wave 1 due to the year-long celebration of DC Comics' 75th anniversary. Text for wave and figure numbers has been replaced with "DC Comics: 75 Years of Super Power" above the character names. This wave also sees the introduction of collector buttons featuring character artwork included with each figure.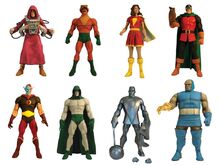 Eclipso
The Spectre

Variant (glow in the dark)

Copperhead
Dr. Mid-Nite
Desaad
Mary Batson

Variant (white)

Iron
Negative Man

Variant (unmasked)

Superboy
Cyclotron
Blue Beetle
Cheetah

Variant (modern)
Recalled/Cancelled (naked)

Blue Devil
Donna Troy
Wave 14 was released exclusively through Wal-Mart retailers in late fall, 2010.
Kamandi
Todd Rice
Tyr
Gold
Hourman
Zatanna
Green Lantern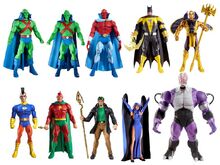 Golden Pharaoh
OMAC
Jemm
Raven
Martian Manhunter

Variant (Martian head and weapon hand)

Starman

Variant (modern)

Sinestro Corps Batman
Wave 16 sees the second alteration to the line's packaging due to the end of DC's 75th anniversary celebration. The "75 Years of Super Power" branding has been removed in favor of a return to displaying wave and figure numbers.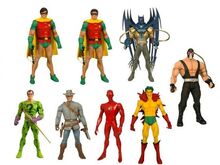 Jonah Hex
The Creeper
The Riddler
Robin

Variant (Golden Age)

Mercury
Azrael Batman
Wave 17 is informally known as the "Blackest Night" wave among fans due to each figure being a different lantern corps variant of a character in order to tie in to DC's Blackest Night crossover event.
Star Sapphire Wonder Woman
Sinestro Corps Scarecrow
Blue Lantern The Flash
Indigo Lantern The Atom
Orange Lantern Lex Luthor
Black Lantern Hal Jordan

Variant: White Lantern Hal Jordan
Wave 18 is informally known as the "Super Friends" wave among fans due to the introduction of four characters (Black Vulcan, El Dorado, Samurai, and Apache Chief) originally created for the Hanna-Barbera Super Friends cartoon. This wave is also less commonly know as the "Super Powers" wave, as the production of Samurai marks the completion of Mattel's attempt to remake every figure of Kenner's Super Powers Collection.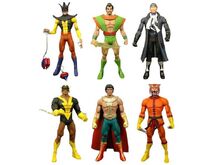 Black Vulcan
El Dorado
Toyman
Captain Boomerang
Samurai
Bronze Tiger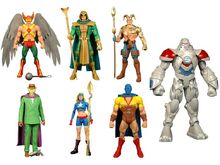 Sandman
The Atom
Stargirl
Lord Naga
Hawkman
Magog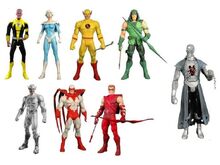 Hawk
Dove
Red Arrow
Green Arrow
Sinestro
White Lantern The Flash
Reverse Flash
All-Stars
Edit
Not to be confused with the similarly named All Star (no "s" or hyphen) re-releases of existing DC Universe Classics figures, the All-Stars branding was originally meant to be used for a relaunch of the DC Universe Classics line. Only four figures were released with no individual numbering and no Collect & Connect figure pieces. This wave is sometimes know informally as "Wave 21."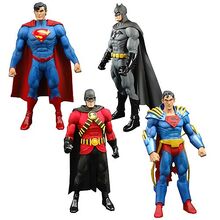 Batman
Red Robin
Superboy Prime
Superman